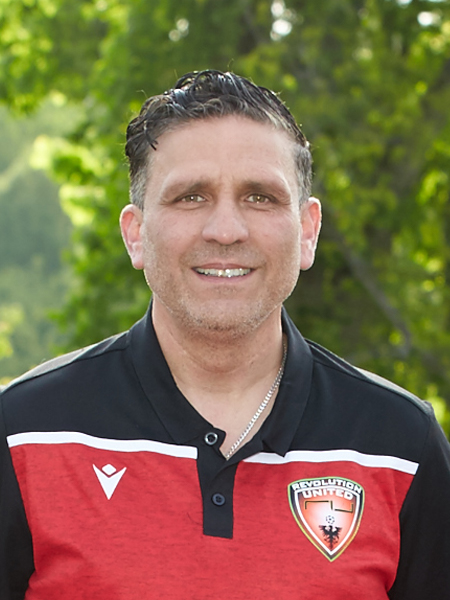 Club Napoli (Met Diego Maradona in 1986 while he played for Napoli.
Playing Experience
Vasco Da Gamma SC – CSSA Over 40 1st Division, Norwalk Mariners SC – CSSA Over 40 1st Division, White Eagles SC – CSSA Over 30 1st Division, White Eagles SC – CSL 1st Division, Bridgeport Italians – CSL 1st Division, All FCIAC Trumbull High School (Captain 1991), Played for Guadalajara's div 11 club team in Mexico, Over 10 years CSL Division 1 (Semi Pro), playing for the Bpt. Italians with seven straight league titles. Playing alongside many National team and MLS players, Mass Twisters (Indoor semi pro), Connecticut Pythons (Indoor semi pro), Represented Connecticut in 1996 and 1997 (1996 All-stars in Lancaster, PA, Competition played USA national Team U 20) (1997 All-stars in Florida, wining regionals and represented Connecticut in California),  Salerno Italy jr club team – 1991
Coaching Experience
Revolution United FC 2017 – Present, coach of RUFC  international teams representing the USA in Portugal 2019, Trumbull High School Boys Varsity Assistant Coach (Fall 2018), Tri-Town Soccer Academy 2016 – 2018, Trumbull Real 2016 – 2017, CT Pythons 2015, Ole Camps 2015, Boys and Girls Club Futsal Coach (Coed) HS Ages 2009-2018, Shelton SYSO- 2009 – 2014, New England Comets Premier Club 2009-2010,
Shelton High School Boys Head Varsity Coach 2007 – 2018, Shelton High School Junior Varsity Head and Varsity Assistant Coach 2004 – 2007, Beachside Soccer Club 2004-2006, Stratford United 2002-2003, President of Stratford United Soccer 2000 – 2002, Korner Kick Sports LLC.-Owner 1998 – 2005, Trumbull United Boys Soccer Club 1996-1999, Westport Soccer Association 1992-1995.
I love to share my passion for the game. Being a student of the game for so long I enjoy sharing my coaching points while also still learning daily from my players.
My coaching philosophy consists of a combination couple of different components that I often like to blend. One is a child's development through technical skills and the second is incorporating that technical development into a tactical team strategy. The two equal a winning formula. It is important to have both technical development and a strong tactical focus for a team to work.
Why I Like To Be a Part of Revolution
RUFC is a family that truly cares for the players, parents, and coaches. It is a world class organization with top notch coaches!