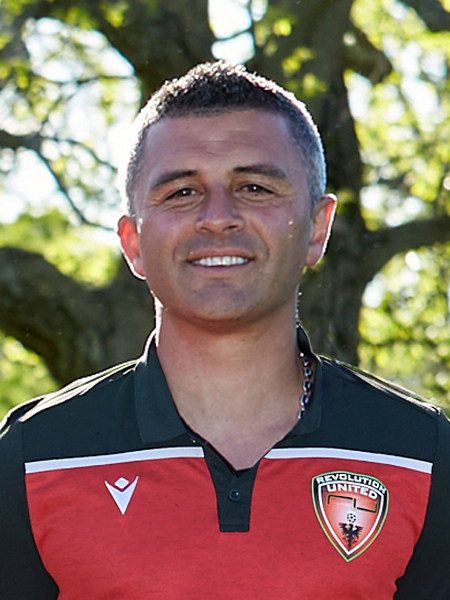 Coach - Director of Coaching
Coaching Experience
Revolution United FC – Owner, Director of Coaches 2016 – Present, Head coach of international teams representing the USA in Spain- 2022
Greens Farms Academy Boys Varsity Coach (2019 – Present), St. Joes HS- JV and Varsity, Notre Dame High School- Assistant Coach, Olympic Development Program (ODP) Coach- 2016, Head Coach for USA team participating in Pony Futbol International Tournaments -Colombia 2010 – 2013, Green Warriors Soccer Academy – Owner, Director of Coaches- 2011 – 2015,  Sol de America – Player development 2005 – 2010.
– Coaching Youth Soccer – American Sport Education Program
– NSCAA Level 5 Coaching Diploma
– Professional Development Certificate – NSCAA
– E License – USSF – United States Soccer Federation
– D License – USSF United States Soccer Federation
– Director Tecnico de Fútbol – Colombian Professional A License
– Asociación de Técnicos del Fútbol Argentino (ATFA – Argentinean License)
– NSCAA Futsal Coaching Diploma
– Spanish LaLiga Philosophy/coaching course with AD Alcorcon in Spain
– Certified First aid and CPR
I believe that a good coach is not only passionate about the sport but also committed and dedicated to his players. Is someone who likes instructing, teaching and guiding players to be successful and reach their goals. My Soccer coaching philosophy is based on four objectives.
1. Make sure the players are having fun. Soccer is a sport and children are on a team because they enjoy playing with their friends. If your players are not happy or are not having fun on that team, they will find another one.
2. Teach soccer fundamentals and teamwork. Demonstrating and teaching the techniques so that each player learns how to play the game and improves their knowledge of the game creates the best playing experience for each individual. By having the players learn and work together, allows for better connection and success as a team.
3. Ensure a safe environment. This can be done by taking the proper steps to ensure safety, such as ensuring the fields we play on are free of glass, staying up to date on the CPR certification, and practicing drills that are age-appropriate, you don't want to frustrate the players.
4. Success as a team, which can only be obtained when I continually work on the first three objectives.
Applying these objectives during the season will not only result in a fun learning and playing experience for the players but will also nourish their leadership skills and develop a healthy competitive spirit to succeed not only in soccer but also in life.